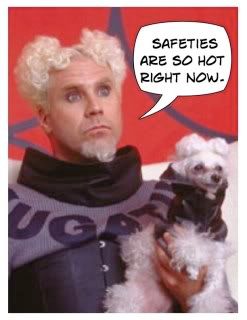 Fooch's Note: We get so fixated on the 49ers, it can be easy to forget about the rest of the NFL.  Thanks to Josh from Hollywood for taking us on an amusing trip around the league.
My name is Josh from Hollywood, and I'm a couch potato. Since I spend every Sunday (and some Thursday nights) planted on the sofa watching football, I figured I might as well give you my thoughts from the weekend's action in the NFL -- whether you wanted them or not. The rest of the site is usually devoted to Niner-centric news, so we thought it might be nice to have a regular post on some of the odds, ends, and trends from in and around the rest of the league. My motto is "1 Man. 2 TV's. 15 games. No pee breaks." (I have a bed pan, and a very understanding wife.)
But seriously, congratulations if you make it all the way to the end of this post. And remember, you may think this is long, but Peter King picks bigger pieces than this out of his poop. Or something.
HUNGRY EYES: I'm really hoping the play of Shaun Hill against the Rams this week is a sign of things to come, because I've discovered that knowing your team has no long-term answer at QB is a lot like being a guy who's longtime girlfriend just dumped him -- you feel scared and alone, and you want to fill the void, but quickly realize there aren't a lot of winners out there (in the dating scene or the QB market).
Sitting on the couch every Sunday scanning the field for potential solutions, I feel like the dude at the bar with the lonely eyes, desperately searching the bar for a friendly face. Only finding good QBs with long-term deals (dating equivalent: hot chicks with serious boyfriends), or bad QBs you wouldn't want leading your team anyway (i.e. fugly girls you wouldn't introduce to your friends), you soon sink to searching the sidelines for an experienced, affordable backup (cruising for hookers after the bars close).
Trying to talk yourself into Matt Cassel at up to $10 million a year is depressing enough in itself, but it's especially hard on us Niner fans who grew up watching the primes of both Montana and Young. It's like a guy who once dated Giselle Bundchen and Angelina Jolie being relegated to picking up chicks outside the local Pretty & Plump outlet.
SAFETIES ARE THE NEW BLACK: Not to go all Jerry Seinfeld on you, but what is the deal with all the safeties this year? They're everywhere. A couple two weeks back, another three last week (two coming on Aaron Rodgers alone), and two more this week -- including one which was the margin of victory in the Steelers game. (More on that later.)
Everyone loves a good safety. It's the football equivalent of a $2 bill. You're like, "Hey, cool, look -- a safety. Huh, haven't seen one of them in a while." Only this season, it's like "What, another safety? WTF?" And, of course, just as sure as night follows day, someone will see an early score with a safety in it -- 3-2, 7-5, that type of thing -- and make the inevitable "baseball score" joke. Today alone, I heard announcers on all three networks with games (James Brown, Curt Meneffee, Keith Olberman) go to some variation of the "Hey look, the Padres and the Pirates are playing" gag. Shame on you, gentlemen. Shame.
Most trends in the NFL are easy to understand. For instance, the Dolphins had some success with the "Wildcat" Formation, and now it seems half the teams in the league are using it. I wish I had an answer for why we've had this breakout of safeties, but damn, I just have no idea. I mean, we've had them come on blocked kicks, bad snaps, QB sacks, fumble recoveries, and RB's being stuffed. We even had a play where Dan Orlovsky of the Lions ran three yards out of bounds and didn't even know he'd scored a safety. There doesn't seem to be a connection at all, but I'm open to reasoning if somebody out there has a theory. 
Until then, I'm just here to point out stuff like this. But I swear, it's getting to the point where the next time I see a team has 10 points, I'll just assume they must've gotten five safeties. 
Okay, that's a lie. But you get the point.
A GAMBLER'S NIGHTMARE: I would've loved to have been in the sports book of a casino on the strip in Vegas when the last game of the afternoon, Chargers at Steelers, ended. If you've ever been there at the end of a game, you know it can get a little emotional with all the bets resting on one play: one half of the packed room jumping for joy at the result, the other screaming in despair/anger. In the matter of a few minutes Sunday, I can guarantee every gambler with a bet on the game did some of both. 
The Steelers (favored by five points) appeared to be one play away from locking up an 11-10 win when the Chargers became the latest team to try in vain to recreate "The Play". They lost control of the ball deep in their own territory, Troy Palomalu picked it up and scored an apparent TD, giving Pittsburgh a 17-10 lead pending the extra point. For a few minutes, everybody who took Pittsburgh and laid the points had been granted a miraculous reprieve, and everyone who took the Bolts had suffered one of the legendary bad beats in the history of football wagering. 
Then, suddenly, just as quickly as things had flipped, everything flipped back, and with almost no explanation. The officials announced they would review the play, which I'm sure had Steeler bettors worried, but the ref quickly announced that the TD stood despite a forward lateral. Then, just as they had to be celebrating, he followed this announcement up with another, much shorter one saying the forward lateral ended the game. Jim Nantz didn't even realize what had happened, announcing there'd be no extra point, but the final was 17-10. Phil Simms chimed in, saying that he thought they were wiping the TD off the board. 
Neither seemed 100% sure one way or the other as they signed off, and although they quickly changed the graphic to read "Steelers 11, Chargers 10", I'm sure more than one gambler went to recieve his winnings only to discover to his dismay that they were actually his losings. I'm sure there have been heart attacks in a sports book over less than that.
The NFL's reaction: "Whoops." Turns out the TD should've counted, but they won't change the score. Whoops, indeed.
R-E-S-P-E-C-T: It's rare that I mention Dan Dierdorf's name without making fun of something he just said, but he had this weekend's best good-ol'-common-sense point. He reported that he asked Ray Lewis about the problems Brandon Jacobs's size presented, and Lewis's reply was nonchalant: "They come in all shapes and sizes". Dierdorf's response: "Yes, but he's the biggest size." Jacobs then went out and had 6.6 yards per carry Sunday, and two TD's where he barrelled over defenders -- including Lewis. Think Ray respects his size now?
10 BURNING QUESTIONS:
1. If you could play one down in the NFL, is there one player you'd want to tackle head-on in the open field less than Brandon Jacobs?
2. Is it crazy to think that Mike Nolan might still have his job if he had started Shaun Hill earlier in the season each of the past two years?
3. With all the talk about Matt Cassel striking it rich this off-season, isn't anyone concerned about his inability to complete a pass of 20+ yards?
4. What the hell is it with this damn "Saved By Zero" Toyota ad? (Seriously, are they trying to actually drive us insane?)
5. Is anybody else impressed that the first time the Titans found themselves down 10+ points all year -- in the 2nd half, on the road -- they responded with three TD passes and a 10 point win?
6. Do you associate "winning ugly" with any franchise more than the Tampa Bay Bucs?
7. Which best describes the announcing style employed by Matt Vaskerjian during the Niners game on Sunday -- "annoying" or "incredibly annoying"?
8. Is there a name in the NFL that's any more fun to say than "Fred Smoot"?
9. At this point, is there anybody who doubts the Lions have what it takes to run the table and go 0-16?
10. What's with Dick Stockton's hair? (Have you looked at it recently? It looks like he had a hair transplant, only they used pubes. Now that I think about it, his name is "Dick".)
MIKE NOLAN STRATEGERY AWARD: When looking for the worst coaching decision of the week, no move on Sunday could beat out Eric Mangini at the end of regulation on Thursday night. With :08 left in the game, and the Pats facing a 4th down at the Jets 16, The Mangina Mangenius, a former secondary coach with the Pats, did the unthinkable, putting one-on-one coverage on Randy Moss. Not only that, the "one" he had on Moss, was Ty Law, who was signed off the street this very week, and playing his forst game in 11 months. And though Law had great success against Moss throughout the night playing bump-and-run (Moss had only two catches for 10 yards to that point), Law was playing way off him on the most important play of the game. 
On the telecast, Cris Collisworth questioned this as soon as the teams lined up, remarking that when they were bumping Moss, he wasn't giving much effort to get off the line. (Randy Moss? Not giving a full effort on every play? No way!) I was watching the game with a friend and said, only half-kidding, "I'd put three guys on Moss right now". That's stupid, but I submit to you that it's not as stupid as single-covering him in that situation.
Moss beat Law (though not by much) to the front pylon, Cassel threaded theaded the needle beautifully on the move, and Moss dragged his toes for one of the prettiest TD's of the year. It's easy to praise the Pats for a great play, but Mangini left himself wide open for criticism there. Lucky for him, the Jets came back to win in OT in one of the best games of the year. Too bad half the country missed it since it was on the NFL Network.
X-FACTORS: Those who didn't get to see Thursday night's game due to cable company shenaniagns or other reasons, missed another great performance by one of the league's most underrated players -- the Jets Leon Washington. The combo RB/KR/PR was a huge factor in the Jets win over the Pats Thursday night, scoring two TD's -- one on a kick return (he had three TD returns last year), and another receiving -- to give him a season total of two through the air to go with the two he has on the ground. Washington won't ever put up big nambers in any one category, but a very versatile and valuable player.
Broncos rookie Peyton Hillis was actually a favorite of mine coming out of Arkansas last year -- not only did he do a great job blocking for Darren McFadden and Felix Jones, but he flashed great hands coming out of the backfield. This year, Hillis has not only been a threat in the passing game, but also a key contributor on the ground since being forced to switch from FB to RB due to a slew of injuries. On Sunday, he delivered a great catches and runs, and scored two TD's in Denver upset at Atlanta.
BOLD PREDICTION FOR WEEK 12: Tennessee will lose its first game -- to Brett Favre and the Jets, who'll have 10 days to prepare for them.