Right now the hooplah around the 49ers in the media is the Kap contract and deservedly so, it is a big story regardless of which side of the contract you sit on, for or against. I am one on the "for" side, I think that Kap is worth a lot of money and is on the verge of doing great great things (as if he hasn't done anything yet haha).
One of the main reasons for my confidence is because of the weapons around Kap, especially ones in the passing game. Below is a quick look at the air game and why I believe each player has the ability to change games and change the post season fate of the Niners.
The Been There (Anquan Boldin & Michael Crabtree & Vernon Davis)
These two don't need much said about them as they have been performing at a high level for a long time. Boldin, in his first season by the bay went for 85 grabs and nearly 1200 yards...he was truly the perfect pickup, not to mention the price was dirt cheap. Boldin's veteran knowledge and safety-valve qualities ended up being huge for Kaepernick. As for Crabtree, the talent is undeniable as well as the potential flashed in 2011 and 2012, but can he stay healthy? Luckily the passing game is so loaded that if he can then this is a pro-bowl attack and if not the roster has enough weapons to avoid suffering too much without him. The same can be said for Davis. Insane talent, amazing productivity, and the ability to change games. Davis is in the middle of the contact thing right now, which I don't know that much about honestly, but I am not worried about it and am looking forward to seeing him on the field.
The New Guy (Stevie Johnson)
This is the addition I am most ecstatic about in San Fran and there are a lot of reasons why, the main one being Stevie Johnson is a baller. Sure the guy is a clown, but he was born in the Bay Area and seems like an all-around fun guy who battled his way from the 7th round of the draft to a 36-million dollar contract. Oh yea and he can do this, against Seattle (in a drubbing he had 8-115-1 against the Seattle secondary).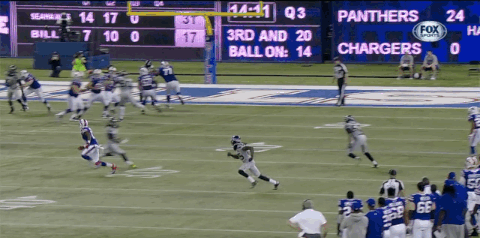 I also found the below...how badly do you have to smoke a cornerback that he ends up so flat-footed, the corner is in another receivers route and gets an interception...
Point being...Johnson should be a huge asset for the Niner's passing game, especially over the middle of the field where his quirky, but effective route running will leave him running in space or drawing defenders away from the rest of the attack.
The Talented Role Players:
Jonathan Baldwin - For those who think the name sounds familiar but aren't sure why it is because Baldwin was supposed to be the next Larry Fitzgerald, or at least a ultra-talented, big-bodied receiver, from Pittsburgh. What happened? Well he flamed out in Kansas City and is apparently quite the "personality." Best case scenario is Baldwin learns from Boldin, Crabtree, and Johnson on how to stay out of trouble and get on the field. Worst case is he is simply released without consequences.
Quinton Patton - Like Ellington, below, Patton was a 4th round pick of the Niner's who did not really find much time on the field last season thanks to a broken foot. Patton was one of those big time producers from a small college (Louisiana Tech) that might struggle to find targets in this crowded offense but could still develop.
Bruce Ellington - This rookie has the making of an interesting role player in the passing game, a tireless worker and two sport athlete in the SEC, we don't yet know much about him. However, he was a 4th round pick with these weapons already on the roster, which is a tell that the Niner's think highly of him.
Carlos Hyde, LaMichael James, and Kendall Hunter - These three kids are currently the ones battling for reps behind Frank Gore, so what gives? We will have to wait and see because all 3 offer different things out of the backfield. Hyde (a rookie 2nd round pick) is more of a Gore, a bruiser. James is the showstopper with speed (just check the tape from Oregon), and Hunter seems to be more of a blend between them. One thing they all bring to the table is the ability to catch the ball!
What Can We Expect?
Last season the offensive ranking for the Niners were as follows:
24th in total yards
30th in passing offense
3rd in rushing offense
I think a year later in development and healing of injuries will make this offense WAY more dynamic. I was actually stunned when I saw the passing offense was 30th, I know it wasn't world breaking, but it certainly wasn't embarrassing (or was it?). A general way I look at our offensive potential is via fantasy football, I can think of several Niner's players I would indeed want: Kap, Crabtree, Boldin, Davis, Gore, and even Johnson. I use draftkings fantasy and you can bet that I will have some of these guys on my team. Is it really that crazy to think Kap can have a Pro-Bowl year (yes because we will be playing the superbowl), but I mean statistically. To think that he will have more vertical weapons in young receivers, a healthy Crabtree, and safety-valve players in Boldin and Johnson makes me quite optimistic. One thing that I want to see more of is Kap running with the ball, the guys speed and unpredictability when the play breaks down is almost a play call by itself.
So let's keep counting the days to week 1 because I am thinking this year won't be short on yards, points, or wins by any stretch!