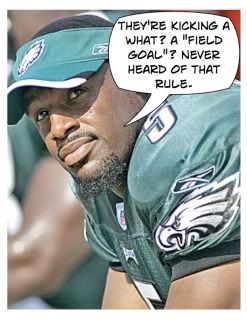 In our ongoing quest to bring you the vital (and not-so-vital) knowledge from around the league, this is the first of a weekly series where I'll preview the games of the weekend with some analysis, some observations, and some lame attempts at humor.
But before I get to that, please allow me to jinx myself: Since Week 5, I've been picking all the games each Friday over on my site, and I've recently hit a major hot streak. After three straight 11-3 weeks, I pulled off a 13-2-1 record last week. That's a 46-11-1 run. I like to tell myself it's taken me a half-season to find my groove, and now I know the teams so well I can keep this up, but I know the NFL gods are just getting me fattened up like a Thanksgiving turkey, so they can lay a nice 7-9 week on me.
I'm already off to a good start this week (I picked the Steelers in the Thursday night game -- you'll just have to trust me), so now I'm all set up to fall flat on my face. And you've got a front row seat.
NY Jets (7-3) at Tennessee (10-0)
Everybody knows the Titans win, for the most part, based on their great defense and running game. Here are three little known facts about that:
1) The Jets have more sacks than the Titans. 2) The Jets have allowed less rushing yards than the Titans. 3) The Jets average just seven rushing yards less per game than the Titans.
Interesting, no? In case those numbers failed to sway you, here are three more factors why I think the Jets will take down the Titans this week:
1) The Jets are capable of putting up a lot of points, and taking the Titans out of their game a bit. 2) The Jets will have had 10 days off to prepare for Tennessee. 3) The Titans have been a little shaky in the running game of late. Collins has made up for it so far, but I don't think he can do that every week. Especially if Kris Jenkins is laying on top of him.
The pick: JETS
Buffalo (5-5) at Kansas City (1-9)
It's amazing how quickly Trent Edwards's stock has plummeted of late. Early on, he was getting all kinds of praise from fans and "How the hell did so many teams pass on him?"-type comments from analysts. Now he's getting booed at home on Monday night while Ron Jaworski tears apart his play on national TV.
This is another reason why sports is so fascinating -- that kind of stuff never happens in real life. Can you imagine the eqivalent to that in real life? It would be like a young guy at work getting all kinds of praise when he gets his first opportunity ("Hey, that Phil is one crackerjack accountant. We put him on the Feldman account, and he really whipped that sucker into shape"), and then a few weeks later, everybody wants the guy demoted or fired ("Can you believe that douchebag Phil is late again today? What an ass he is -- his numbers were all way off last month and when I confronted him about it, he groped me inappropriately").
The pick: BILLS
Philadelphia (5-4-1) at Baltimore (6-4)
Philly fans are lucky their baseball team just won the world series, because they otherwise they might've been suicidal over the Eagles embarrassing showing at Cincy last weekend. The Iggles limped away with an ugly 13-13 tie which put a serious dent into their playoff hopes, which were sky high early in the season.
Shockingly, their offense was completely stymied by the lowly Bengals defense (75 minutes, 17 drives, 13 points), and Donovan McNabb's TD/INT ratio took a major beating (Coming in: 13/5, Sunday: 1/3). There was even talk after the game that Andy Reid could give backup QB Kevin Kolb some playing time down the stretch.
So which is more shocking: a) the Eagles offensive meltdown, b) the Kolb rumor, c) the fact McNabb didn't know there were ties in the NFL, or d) the fact that McNabb's ignorance of the tie rule became the story of the week?
I'm going with e) the fact that McNabb wondered if they had ties in the playoffs and Super Bowl. I mean, seriously? You think the Super Bowl could be a tie? Are you insane?
The pick: TIE EAGLES
Tampa Bay (7-3) at Detroit (0-10)
Last Sunday, the best play of the day for me might've been an incomplete pass. It's not likely a play you caught unless you happened to be watching the Vikings/Bucs game when it occurred, as not many incompletions make the highlight shows. But it was a key play in the game, a turning point, and I thought it deserved a second look.
Minnesota faced a 4th and 1 at midfield in the 3rd quarter of a 13-13 game. The Vikes went for it, running a play action fake to Chester Taylor into the line while Adrian Peterson leaked out of the backfield on a wheel route. The Bucs called a corner blitz and Rhonde Barber had Gus Frerotte dead to rights, but Frerotte did a great job to duck under Barber. He looked deep and threw a perfect pass to Peterson, who had a step on Derrick Brooks 25 yards downfield. Only just as the ball nestled into Peterson's hands, Brooks leapt, and tore it from his grasp. Incomplete. Ball turned over on downs.
The great thing was, everyone did their job perfectly on that play, and only Brooks's all-out dive (if he misses, Peterson is gone for a TD) saved the day as Tampa won by six points. Some wonder why teams like Tampa keep winning, but I think the answer lies in lots of plays like these, which don't show up on a stat sheet (well, except for the QB hurry and the pass defended).
The pick: BUCS
New England (6-4) at Miami (6-4)
This is a "Who'd have thought?" game. Who'd have thought this matchup would be crucial to the playoff hopes of both teams? Who'd have thought they'd be tied? Who'd have thought the Pats would be the ones trying to avenge a blowout loss from the first matchup of the season?... You get the point.
I think Cassel has improved a lot since the first meeting, and the Pats will be out for blood after that embarrassing beatdown they took in Foxboro. (Think Belichick made them work against the "Wildcat" in practice much?)
The pick: PATRIOTS
Minnesota (5-5) at Jacksonville (4-6)
Before last week, the Vikes were undefeated in games in which Adrian Peterson rushed for 80+ yards. He rushed for 85 yards last week. That means they are now undefeated in games where he rushes for 86+ yards. That's the kind of knowledge you can only get here.
The pick: VIKINGS
Houston (3-7) at Cleveland (4-6)
Brady Quinn and Derek Anderson literally could not be any more different as QBs. Okay, that's not true -- one of them could be a running QB, or a lefty, or a post-op transsexual or something. But in terms of style of play, Brady loves to dink and dunk and never takes a shot downfield, while Anderson is such a Mad Bomber I'm shocked Al Davis hasn't already traded for him (and then inexplicably waived shortly thereafter). How one team can have them both signed to long-term, big-dollar contracts is a sign of how unsure they are of their direction.
The good news: One of them will be traded this offseason. The bad news: It will be Anderson, who I think is the less talented of the two.
The pick: BROWNS
Chicago (5-5) at St. Louis (2-8)
The Bears are part of a three-way atop the NFC North.
That's not nearly as sexy as it sounds.
Also: The Rams are bad.
The pick: BEARS
San Francisco (3-7) at Dallas (6-4)
I hate it when the Niners play in the 10am PDT game because I invariably end up missing much good football. There's usually about a 10/4 ratio between the morning/afternoon games, so the numbers say that when I'm watching the Niners, I'm missing more of the day's best action. The last few years, it's been less of a burden due to TiVo, and the Niners usually falling way behind early. Let's hope that doesn't happen this time.
The pick: NINERS*
* I just have an odd feeling about this one (Maybe it's all that Shaun Hill Kool-aid I've been chugging this week)
Oakland (2-8) at Denver (6-4)
Did you see how Jim Fassel sent Al Davis a letter telling him how much he respects him, and lobbying for the Raiders head coaching job? Isn't that kind of like those chicks who write letters to imprisoned serial killers telling them how badass they are, and proposing marriage? Something tells me Fassel has some unresolved daddy issues.
The pick: BRONCOS
Washington (6-4) at Seattle (2-8)
Clinton Portis has made a pretty amazing transformation. He came into the league on the small side, using his great speed and cutting ability to succeed in Denver's zone-blocking scheme. Then when he came to Washington and got beat up in Joe Gibbs's more traditional running system. So, just as he was losing some of that speed to age and wear and tear, he bulked up tremendously, and became a whole different kind of runner -- a much more physical, slashing-type back. (Not the only transformation he's made.) He's not really a home run threat anymore, but he's more effective at grinding out the tough yards, as evidenced by his strong stats: He has a 4.9 YPC and his 1,063 yards are second in the league to Adrian Peterson's 1,100.
The pick: REDSKINS
Carolina (8-2) at Atlanta (6-4)
Everyone agrees Matt Ryan has been a very impressive rookie, and I've been all over the Falcons bandwagon, but until last week I was unaware of these splits:
HOME: 4-1, 67%, 110 RATING 5/1 TD/INT, 9.85 YPA, 1 SACK
ROAD: 2-3, 54%, 72 RATING, 6/5 TD/INT, 6.07 YPA, 11 SACKS
That one home loss came last week, and only then because Roddy White dropped what would've been a beautiful, game-winning TD pass in the back corner of the end zone.
Realizing this makes me think two things: 1) If Atlanta makes the playoffs, they'll likely draw a road game, and a loss, and 2) I give them the edge against a Panther team which hasn't played particularly well against a couple of crappy teams (Raiders, Lions) the last couple of weeks.
The pick: FALCONS
Giants (9-1) at Arizona (7-3)
It feels weird to say that a game featuring the Cardinals could be the ever-popular "playoff preview", but it is what it is. What this is, is a test for Arizona, to see if they deserve induction in the For Real club -- where only teams with a chance to make a run in the playoffs reside. No one is more For Real than the Giants, so the Cards don't even have to win -- just play competitively for four quarters.
The pick: GIANTS
Indianapolis (6-4) at San Diego (4-6)
Have you ever been in the deli section of a grocery store and picked up some crab salad or seafood bisque, only to look at the ingredients and see that instead of crab, they list "Krab" among them? For those who don't know, Krab is imitation crab, and though it will fool some, for real connoisseurs the difference is obvious. That's why the market feels the need to subtly inform the customer he's not getting the real thing.
The Colts are like that imitation crab: To casual observers, they're back playing well and in the playoffs as of this moment. But to connoisseurs, it's obvious this is imitation Colts -- not quite the real thing. Many of the superstars are playing hurt, the running game isn't what it was, and timing in passing game is off. I think in the interest of honesty to the customer, the NFL should admit they're not the real thing by calling them the Indianapolis Kolts. That said, they're more reminiscent of their recent good teams than the Chargers, who are missing one superstar (Merriman), and have two more looking like shadows of their former selves after toe injuries (Gates and LT).
The pick: KOLTS
Green Bay (5-5) at New Orleans (5-5)
I have to say I had serious doubts about Aaron Rodgers chances this year. Not only was he replacing a legend in one of the most awkward scenarios imaginable, but he had a history, albeit short, of being injury prone. But after 10 games, he hasn't missed a start and though his team's record is mediocre, his stats are easy on the eyes: His 94.5 rating is fifth in the league, his 15 TD place him seventh, and his 2.5:1 TD/INT ratio is solid.
I know it's unrealistic to expect he would've put up those numbers for the Niners, but with Jason Campbell also maturing nicely, the Alex Smith pick actually manages to look worse every day. Of course, none of that matters now that future Hall of Famer Shaun Hill is at the helm! (Damn, I really need to put down this Kool-aid.)
The pick: PACKERS
By the way, if you don't have the Sunday Ticket and you'd like to know which games are on in your area, when, and who's announcing them, this site is indispensable.