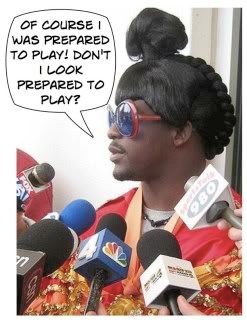 Welcome to 'Any Given Friday', where we're still awed by Carolina's running attack on Monday night, where we "called in gay" even though we're straight as an arrow, and where our new motto is "It is what it is, bro".
Since WR's are the divas of the NFL, most of the drama revolves around them. But besides one bit of news (which Fooch pointed out), most of the controversy this week surrounded RB's. Here's a rundown:
Clinton Portis: It was a quick trip for Portis from team MVP to benchwarmer. When he spent most of the 2nd half of the 'Skins/Ravens game wearing arctic gear on the sideline, I was sure it was his myriad injuries keeping him on the bench. But Coach Jim Zorn claimed he was prepared due to missing practice time. This seemed like odd reasoning to me -- and clearly to Portis, as well. He may be free spirit, known for his many personas -- besides Choo Choo (pictured above), there's Coach Janky Spanky, Dolemite Jenkins, Southeast Jerome, and Dollah Bill -- but he's always been thought of as a team guy, and someone you could count on. And considering the way Portis has carried the 'Skins offensively this season, I have to conclude this was handled poorly by Zorn.
Marion Barber: Dallas is in the playoffs as of this moment, but this week's game is a near must-win for them to make the playoffs. So how does Jerry Jones try to motivate his team? He calls out Marion Barber in the press, saying he could've played against the Steelers, and questioning his toughness. I guess when you're 18-32 in December and January over the past 12 years, you have to try whatever you can think of to keep your team from collapsing down the stretch. But that's not too inspiring of a statement, especially when you have to quickly back-pedal away from it a couple of days later. Along with the escalating T.O. drama and whispers over Tony Romo's big game issues, could America's Team be in the headed for another December Dallas Disintegration?
"Smash and Dash": Carolina RB's DeAngelo Williams and Jonathan Stewart were so impressive against Tampa monday night -- with the MNF crew throwing around the nickname "Smash & Dash" -- it even caused some backlash. Titans RB LenDale White was pissed about having a nickname he claims to have coined -- and "trademarked and copy written" (I think he meant "copyrighted") for himself and Chris Johnson. He even has the t-shirts to prove it. This dispute raises two key issues: 1) When is a nickname officially taken? Maybe never -- considering that one of the greatest defensive players of all time, Lawrence Taylor, had his stolen while he was in the Hall of Fame. 2) Which of these two tandems, the Titans and Panthers, is the best in the NFL? Statistically, they've been remarkably similar so far this season:
YARDS PER GAME (NFL RANK): Tennessee 146.1 (3rd), Carolina 146.0 (4th)
YARDS PER CARRY: Tennessee 4.4 (7th), Carolina 4.8 (2nd)
TD'S: Tennessee 22 (2nd), Carolina 23 (1st)
Enough with the drama, let's get to the games...
San Francisco (5-8) at Miami (8-5)
Despite "Total ball security" has been one of Coach Singletary's much talked about Formula for Success, the Niners were sorely lacking last week -- 5 fumbles, one INT. If Samurai Mike really wants to impress on his team that he's serious about ball security, I think he should make them all switch from boxers to briefs. (I'll wait a minute while you stop groaning at that one.) Still here? I admire your dedication.
After picking the Niners to beat the Cowboys only to see them lose, I've picked against them two straight weeks with much better results. So, I'm staying the course until further notice.
The pick: DOLPHINS
Seattle (2-11) at St. Louis (2-11)
When I was in college my buddies and I would sit around our apartment smoking, uh... cigarettes, and ask each other crazy philosophical questions -- sort of like a amateur pyschological experiment. One that stuck with me all these years was this: "If you had to choose one, which would you rather -- having no penis, or looking like Eric Stoltz in "Mask"?"
Ridiculously tough call. No good option there. We debated it for hours. Well, that choice reminds me of this game. I don't know if the Rams are the no penis and the Seahawks are the kid from 'Mask', or vice versa, but it's the same basic principal -- no good option. Only I'm not going to debate it for an hour.
The pick: SEAHAWKS
Tampa Bay (9-4) at Atlanta (8-5)
When did Antonio Bryant suddenly become the greatest WR of all time. At least he was on Monday Night Football when he became the 2nd Buc ever with 200+ yards including three long plays, two TD's, and one of the best catches you'll see. Really, he's been good all season (66 catches, 936 yards), teaming up with Garcia to give Tampa their best deep threat since Joey Galloway was still in his prime.
The Bucs virtually clinch the #1 wild card spot with a win (their 8-3 conference record and their competitor's tough schedules aiding them), but Atlanta needs this game in an effort to re-take a playoff spot from the Cowboys. (Also: After last week's 2-0 showing, the NFC South is now 24-2 at home this season)
The pick: FALCONS
Detroit (0-13) at Indianapolis (9-4)
Does anyone else find it exceptionally hard to believe that the Colts are 9-4? They have been incredibly lucky/good I close games, winning six games by 21 points total. In addition, their schedule has been very easy (see: this week). So, are they the Colts, an experienced and still dangerous veteran team you don't want to face in the postseason? Or are they the Kolts, a paper lion fattened up on doormats that a lower seed looks forward to drawing and exposing in the playoffs? Either way, we probably won't find out this week.
The pick: COLTS
Green Bay (5-8) at Jacksonville (4-9)
What the hell happened to Green Bay? Their fall has been as inexplicable as any recent team I can think of. If someone had told you they would collapse this year, you might've thought it would be due to Aaron Rodgers -- either because of injury or performance -- but he's been good. You might think they would've suffered a deluge of injuries, but they've stayed relatively healthy. You might've guessed Ryan Grant turned out to be a one year wonder, but he's been decent -- 980 yards, 4.0 average. 
One obvious problem area is on defense, where they already allowed 319 points, combined to the 291 they allowed last year. Still, that doesn't explain their 5-8 record -- they've still out-scored their opponents 355-319. They just have a knack for losing close games. Fortunately for them, this one probably won't be close.
The pick: PACKERS
Washington (7-6) at Cincinnati (1-11-1)
What exactly does it take for Marvin Lewis to get fired? His players have been arrested, his star WR has publicly questioned him and embarrassed the franchise, and his team has turned into a laughingstock. So, why hasn't he been fired yet? It helps when your boss (Owner/GM Mike Brown) is more incompetent than you are. Mike Brown firing Lewis would be like the pot calling the kettle black.
The pick: REDSKINS
Buffalo (6-7) at NY Jets (8-5)
The Jets have to be unhappy to be 8-5 -- two weeks ago, they were 8-3 with likely wins against the Broncos and Niners on the horizon. They're stilla damn sight happier than the Bills, who've watched a dream-like rebound season at 5-1 turn into a bitterly disappointing 6-7. Then, just to punctuate the pain for their fans, the Bills play a home game in Toronto, with rumors they may make that a permanent arrangement. There was a bright side, though: The turnout and enthusiasm in Toronto was so poor any permanent move seems a little less likely. That's what passes for a Merry Christmas in Buffalo. 
The pick: JETS
Tennessee (12-1) at Houston (6-7)
The Texans are doing exactly what they did last year -- turning a slow start into a fast finish. Last season, they ended up at 8-8 and caused a lot of experts to call them a darkhorse candidate for the playoffs this season. This season, they appear headed for the same fate. So what to say about they're future? Are they still a young team on the rise with a chance to do damage next year, or are they a fatally-flawed team saddled with brittle and inconsistent QB's? 
Either way, the Texans will probably have high expectations going into next year -- at least from their fans -- and head coach Gary Kubiak will probably have to start strong in order to keep his job because a late run to respectability won't save him three years in a row. (Speaking of Kubiak: Did anyone else see him literally turn his back on Kris Brown's game-winning FG in Green Bay last week? Don't know that I've ever seen that from a coach before.)
Meanwhile, Tennessee is rolling along, once again sporting the best record in the NFL. Still, I can't see the Titans going 15-1, so they're going to lose somewhere. A division game on the road against a team on a a bit of a roll is as good a place as any to do it.
The pick: TEXANS
San Diego (5-8) at Kansas City (2-11)
Nothing to see here, please move along.
The pick: CHARGERS
Denver (8-5) at Carolina (10-3)
After their overwhelming performance vs. Tampa on the ground on Monday (299 yards, 8.1 YPC, 4 TD's), Carolina is now clearly the #2 team in the NFC. Making it even more impressive, Tampa went into the game having allowed exactly one rushing TD all year. The Panthers can play defense, they have a big play WR in Steve Smith, and a QB who's taken a team to the Super Bowl before in Delhomme. Of course, the centerpiece is the strong RB tandem of "Smash & Dash" Williams and Stewart. But there was one weakness outlined by the crew on Monday night -- other than Muhammad and Smith, no other Panther has 20 catches on the season. In the playoffs, if the Panthers fall behind and have to throw against a superior defense that could become a problem.
Looking at the records, this game looks like a pretty good matchup, but seeing as Denver has the 26th ranked rush defense, the pick is an easy one.
The pick: PANTHERS
Minnesota (8-5) at Arizona (8-5)
It still feels weird to bring out the old reliable "possible playoff preview" when discussing the Cardinals. I'll be honest with you -- I don't like it very much.
With Chicago having already won, and hot on the Vikings trail -- just a half game back -- this game carries much more weight with them than the already-clinched Cards. Because of this, I'm tempted invoke the old "Who needs it more?" pick here. I would if Arizona depended on the running game more -- the Williams Wall could negate that -- but the Cards like to throw and the Vikes don't stop it all that well.
The pick: CARDINALS
Pittsburgh (10-3) at Baltimore (9-4)
As discussed on Monday, this game is huge. It's also very hard to call. And when games are evenly matched, I like to look for that one overwhelming trend or shocking stat to push me off the fence one way or the other. This week, it points toward Baltimore. You all know how great their defense has been (Ed Reed got back to his ball-hawking, TD scoring ways last week), but have you noticed how well their offense has played of late? Stat O' The Week: In the last eight weeks, the Baltimore Ravens are the highest scoring team in the NFL.
The pick: RAVENS
New England (8-5) at Oakland (3-10)
After JaMarcus Russell had craptastic 1st half vs. the Chargers last week (9/13, but only 68 yards and three turnovers before leaving due to injury), and then had his work ethic questioned, I wonder if Al Davis is regretting his decision to cite Lane Kiffin's opposition to drafting Russell as one of the reasons to fire him? Oh, who am I kidding -- Al Davis is probably too busy drinking the blood of virgins to worry about stuff like that.
The pick: PATRIOTS
NY Giants (11-2) at Dallas (8-5)
On Monday, I discussed the importance of the schedule-maker this time of year. Well, the schedule-maker was not kind to the Giants this year -- they end the season with three games against teams which would be in the playoffs if the season ended today (and, you never know, it just might). On top of that, next week New York plays the Panthers, who are nipping at their heels for the top spot in the NFC. If Carolina stays just one game back, they could take the lead with a win (due to the head-to-head advantage). While this game is more important to Dallas, the Giants don't want to be in a losing streak this late in the season, not to mention going into that big Carolina game.
The pick: GIANTS
Cleveland (4-9) at Philadelphia (7-5-1)
After being benched at Baltimore three weeks ago, Donovan McNabb has played much better (ratings the past two weeks of 121.7 and 92.5) in the Eagles two straight wins. RB Brian Westbrook has also gotten back in a groove, rushing for 110 and 131 yards after failing to break 61 for the previous four games. Just as importantly for Philly, and probably not coincidentally, Andy Reid has raised his game as well. On the Thanksgiving game against Arizona, he had the Cardinal defense off balance all night, and he's gotten 22 and 33 carries for Westbrook respectively, following no more than 14 for the previous three contests. 
Reid's high-point came last week when he nailed the kind of strategical sublety he's become known for flubbing among frustrated Philly fans. Playing at notoriously windy Giants Stadium, Reid called a timeout with just :03 left in the 1st quarter so David Akers could attempt a 51 yarder with the wind instead against it.
Just when it looked like the Reid/McNabb administration was about to end in Philly, it appears there just might be a little life left in them. But not if they lose this game.
The pick: EAGLES
LAST WEEK: 12-4
THIS WEEK: 1-0