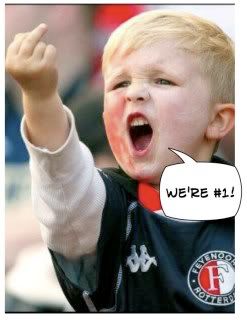 Welcome to 'After Further Review...', where we think this will be the greatest Christmas Week 17 ever, where we realized this weekend that the Titans and Giants were who we thought they were, and where we were ready to help Mike Singletary choke Shaun Hill at 12:30 Sunday, and an hour later we were online ordering him a Jane Seymour Open Heart Necklace for Christmas.
All season, it appeared the Tennessee Titans would be the top seed in the AFC, and the New York Giants would be the top seed in the NFC. Then, during the last couple of weeks, things started get a little squirrely for the Titans and Giants. But in the end, the NFL season gave us what the famous screenwriting guru Robert McKee (immortalized in 'Adaptation.') always advises for storytelling -- give the audience what they expect, but not in the same they expect it. On Sunday, both teams took their place atop their respective conferences -- one with a little more grace than the other.
Without any further ado, ladies and gentlemen, your #1 conference seeds, starting with the AFC...
THE SUBSTITUTE: Man, the Titans sure are gonna miss Albert Haynesworth, huh? Yeah, that's what a lot of people said. Hell, that what I said. And I'm a freaking football genius and stuff. But maybe we all need to take a step back and re-evaluate. Rookie Jason Jones, Haynesworth's replacement on the D-line, recorded three and a half sacks and three forced fumbles as the Titans shut down the Steelers, beating them 31-14 to lock up the #1 seed in the AFC.
The Titans defense will get much of the credit because of their injuries (Haynesworth and fellow DT Kyle Vanden Bosch), and because they were facing Ben Roethlisberger and the red-hot Steelers, but Tennessee came out strong on offense as well. The Titans took an early 10-0 lead on a Pittsburgh D which came into the game on a record streak: They had tied the 1973 Rams for most consecutive games allowing less than 300 total yards at 14. The Titans ended that streak, racking up 323 total, and keeping the '73 Rams in the record book. (Somewhere Deacon Jones just pumped his fist and made a disparaging remark about players "these days".)
It wasn't a cake-walk for Tennessee, who took Pittsburgh's best shot in the middle part of the game. The Steelers held the Titans scoreless for almost 28 minutes from the end of the 1st quarter until late in the 3rd, and use d that defensive surge to score 14 straight to take the lead 14-10. Steelers QB Ben Roethlisberger, who had two big fumbles early -- including one on the Tennessee goal line -- rebounded to throw for 331 yards and 2 TD's (the first two 20+ yard TD passes the Titans had allowed all year. But the Titans used two Roethlisberger INT's -- one a Pick-6 by CB Michael Griffin -- and a big game from Justin Gage (5 catches, 104 yards, TD) to ice the game. 
So the Titans clinch home field advantage through the playoffs, and won't play another important game for three weeks. Sometimes, teams are afraid of having non-competitive games heading into the playoffs, but Tennessee has to be thrilled to know they'll have time to get their big men healthy for the stretch drive.
One moment to bookmark: After the game on the sidelines, Titans RB LenDale White  was caught on camera throwing a Terrible Towel on the ground and stomping on it. Nice, LenDale! Way to flip the bird to that proud team you might still play in a few weeks with your entire season on the line! That openly disrespecting your future oppenent stuff always works!
GONE WITH THE WIND: For a minute there I doubted the Giants. I'd spent most of the season saying they were the best team in the league -- even when Tennessee was undefeated. I'm usually loathe to praise a New York team. I especially don't like saying they are the best team in the sport. But it was so obvious, even I couldn't deny it. But that all changed in the last couple of weeks.
I wasn't overly concerned about Plaxico Burress being a distraction for the team, as I was about the Giants not having his services the rest of the season. With Brandon Jacobs also hurt, I started to wonder if they were as strong as that teamed that wowed me all season. Especially when they stumbled each of the last two weeks. 
I still picked them to win this week, but by the time they were down 21-10 in the 2nd quarter on Sunday night, their mojo seemed to be long gone. I was already thinking about the prospect of "Carolina Panthers, #1 seed", and all the "Changing of the Guard"-type stories on ESPN this week. But no. The Giants still had one trick left up their sleeves, the same trick they've played every time things look bleak for them. They played The "Running Game" Card.
The Giants stormed back into the game behind two of their three-headed backfield, nicknamed "Earth, Wind and Fire". Riding "Wind" down the field (Derrick Ward -- 15 rushes, 215 yards) and "Earth" into the end zone (Brandon Jacobs -- 24 carries, 87 yards, 3 TD's), the Giants racked up their most rushing yards (301) in a game since 1959. New York used the first pass interference penalty against Carolina all season(!) to tie the game 28-28 with a TD and two-point conversion with just four minutes left.
Carolina drove down to the New York 33-yard line with just :09 remaining, and was able to attempt a 50-yard FG to win the game, and lock up home field advantage throughout the playoffs. John Kasay's kick was headed straight down the middle, but the famously swirling Meadowlands winds (aptly gauged by sideline reporter Andrea Kremer just prior to the kick) swept the ball wide of the posts, and the game went to OT. There, they were swept away by another wind, Ward, who had two long runs to set up an easy plunge by Jacobs to ice the game and the #1 seed.
Now the Giants face that age-old dilemma: Whether or not to go all out in game you don't need -- New York plays Minnesota next week in a game the Vikings need desperately to win their division. If last season -- when the Giants played their hearts out in the last week of the regular season against a New England team striving for perfection -- is any indication, Tom Coughlin won't lie down for the Vikings.
4 O'CLOCK FRENZY: At 4 o'clock PDT, there were three big games -- each with playoff implications for teams involved the game, and teams not involved in the game -- which were coming down to the final two minutes at the very same moment. In each game, the team leading had a seven point spread, and the trailing team had the ball with a chance to force OT. In each game, the trailing team was in the playoff hunt (two needed win to clinch their division, one needed a win control their own destiny for a wild card spot).
The Eagles were down 10-3 at Washington and had the ball around midfield, needing to force OT and win to set up a win-and-in situation next week at home vs. Dallas. The Broncos were down 30-23 at home against Buffalo but were in the red zone, needing to force OT and win to clinch the AFC West and avoid and lose-and-out situation at San Diego next week. The Vikings were down 24-17 at home vs. Atlanta, near midfield, needing to force OT and win to clinch the NFC North. The plot twists were coming fast and furious.
Then, at about 4:08pm PDT, each of the trailing teams took a significant blow. On 4th and 16 on their own 41 with :56 left, Tarvaris Jackson's pass fell incomplete, essentially ending that game. Almost simultaneously in both D.C. and Denver, WR's had game-tying TD passes in their hands -- both dropped it. 
On 4th and 5 at the Buffalo 15 with :39 left, Jay Cutler backpedaled to avoid oncoming rushers and lofted a pass to Brandon Stokely in the end zone. It was a touch behind him, leading him back into traffic, but Stokely got both hands on the ball and had it a moment, before Reggie Corner (of course) knocked it away. Game over. At almost that very second, on 1st and 10 at the 'Skins 40 with 1:05 left, Donovan McNabb lofted a perfect deep ball to the back corner of the end zone. DeSean Jackson got a step on his man and had it slip through his hands. 
The Eagles didn't die there, driving the ball to Washington's half-yard line before time expired. Excruciatingly. Within a few moments, the fates of Philly, Minnesota and Denver took a huge turn. Along with them -- and in all likelihood watching it on TV -- were the Chargers, Bears, and Bucs. The way it broke down, only one team involved in the games actually made the playoffs -- Atlanta. The other six were left on the bubble, which makes for a much more exciting Week 17. And to my recollection, we haven't really had one of those in a while.
FAVRE FROM HOME: Well, now that the Jets have all but excused themselves from the playoff race, it looks like we won't be tortured throughout the postseason with Brett Favre tributes galore. It'll just be the endless ruminating on whether he'll retire or not. Of course, the Jets may not want him back at this point. 
In the game which effectively ended their season, Favre's line (18/31, 187, 2 INT's) were less than inspiring, and his offense could only must three points. You could argue a lot of that had to do with the weather -- driving snow in Seattle that actually out-did the blizzard in New England for the 1st half -- but the numbers don't bear that out. In the three weeks prior to Sunday (in which the Jets went 1-2 and let their divison lead evaporate), Favre had 1 TD, 4 INT's, and a QB rating of 61.1. 
If Favre does return, he probably won't play on the west coast. He went 0-4 there this year, which stands in stark contrast to his 9-2 record everywhere else. And it's not like we've got a bunch a great teams out on the west coast either -- none of them have winning records, and only San Diego has a shot at going .500.
ON THE OUTSIDE, LOOKING IN: The Patriots lost Asante Samuel and Donte Stallworth to free agency in the off-season. They've had a long list of players miss time: Adalius Thomas, Vince Wilfork, Tedy Bruschi, Ty Warren, Rodney Harrison, James Sanders. Not to mention losing a guy named Brady for the season. Yet, they've managed to win 10 games and find themselves tied for 1st place with one game to go. Great, right? Well, what if I told you they could win next week, finish 11-5, and still not make the playoffs?
It's true: If Miami beats the Jets next week, they'll edge the Pats for the AFC East title. If Baltimore beats Jacksonville, they edge New England for the last wild card spot. And just to add the cherry to their turd sundae, they would have to watch Arizona, a team they just beat 47-7, play in the postseason. Merry Christmas, Pats fans!
BADGERING THE WITNESS: Things have gotten pretty heated in some of Detroit head coach Rod Marinelli's post-game press conferences this season -- and for an 0-15 team that's to be expected. But in my opinion, The Detroit News' Rob Parker took things at least one step too far after the Lions' 42-7 loss to the Saints on Sunday. Parker chose to single out Detroit defense coordinator Joe Barry for his wrath, peppering Marinelli with questions about why he hasn't fired Barry. Barry is in charge of the league's 32nd ranked unit, so that's fair. Parker asked Marinelli if he was impartial in the matter, seeing as he is Barry's father-in-law. That's only fair -- once you hire family, you're opening that up. It was even fair when Parker asked Marinelli is there were any conditions under which he would fire Barry. Again, fair.
But when Parker went over the line -- way over, in my opinion -- was when he asked Marinelli if he wished his daughter had married a better defensive coordinator. As you can see in this clip, Marinelli did the classy thing -- as he has all year, to his credit -- and didn't answer. As you'll see at the end of that clip, he didn't need to -- each and every member of the FOX studio crew defended Marinelli and castigated Parker. Rightly, if you ask me.
ANALYSIS OF THE WEEK: This week it came early -- on Saturday night -- from Deion Sanders. No, really. Stop laughing, I'm serious. At the end of the 1st half, with the Cowboys leading 7-6, but struggling mightily on offense, Deion advised them to be careful with the ball. He stressed they were lucky to be ahead, and warned about  Baltimore's aggressiveness on D. He said if Dallas wasn't careful, then Ravens would make them pay.
Just a moment later, Romo tried to hit Owens deep, badly underthrew the ball, and had it picked off by Ballhawk Extraordinaire Ed Reed (that's how I'm introducing him until further notice). Reed did what he does best, maximizing the turnover by taking it all the way from his own 20 to midfield with :27 left. After some all-purpose yards from Willis McGahee, the Ravens were able to convert the mistake into points, kicking a FG to take a 9-7 lead into halftime. Baltimore never lost the lead, and won 33-24 top put Dallas' playoff hopes in jeopardy (at least temporarily).
THE LATEST OFFICIATING GLITCH: For the second time this season, I've seen this exact sequence: 1) An official calls pass interference, 2) After a conference with other officials, they wave it off due to a tipped pass, 3) Replays show the pass wasn't tipped, 4) The coach of the offensive team requests a challenge, 5) The ref announces it can't be reviewed because even though they said it was a tipped pass, the real reason it's not pass interference is because the DB just got his "feet tangled" with the receiver. 
Most of you will remember the first time I saw that -- it was in a Niner game when Jason Hill was interfered with . I thought it sounded a little sketchy then, but I'm a biased, paranoid Niner fan, so that comes with the territory. But after it happened Sunday, in one of the biggest games of the year -- Tennessee/Pittsburgh -- I'm getting tingling in my ear lobe that only happens around giant conspiracies.
I mean those are pretty specific circumstances, and it seems odd that exact same thing would occur (at least twice in the same season. I hope it's a coincidence, and not some new way the refs have figured out how to sweep bad calls under the rug. But the lobe never lies.
COUNTDOWN TO HISTORY: The Good News: Saints QB Drew Brees threw for 351 yards against the Lions on Sunday, giving him 4,683 for the season, and leaving him 401 yards shy of Dan Marino's all-time single-season mark of 5,084 set in 1984. The Bad News: Next week, Brees and the Saints will face Carolina -- a team with a good defense, coming off a tough loss, and needing a win to insure a division title.
X-FACTORS: Last week, RB Fred Jackson impressively bulled through a sea of defenders to score a go-ahead TD against the Jets in the 4th quarter on the road. This week, he ran for another 4th quarter go-ahead TD on the road. That's after setting up yet another go-ahead 4th quarter TD with a 65 yard catch and run. Subbing for starter Marshawn Lynch, who left the game an injured shoulder, Jackson compiled 43 yards on 10 carries, and caught three passes for 70 yards.
Vikings TE Visanthe Shiancoe has a lot of tools, or at least one pretty big one, but he only plays one position, so he doesn't seem to be a traditional X-Factor at first glance. But the Vikings often use him like a WR -- running deep patterns, and screens used to get the ball in his hands to utilize his athleticism. His numbers this year on the run-first Vikings (33 catches, 446 yards, 5 TD) don't show that, but his numbers against the Falcons Sunday certainly did (7 catches, 136 yards, 2 TD's).
4 BURNING QUESTIONS 
1. How many phones, remotes, lamps, etc. do you think were broken in anger in the living rooms across the city of Philadelphia after that final play? Talk about a tough end to a game, especially when considering a win would've set-up a win-and-in situation against Arch-rival Dallas next week.
2. Does anybody else not think it's a coincidence that the Bucs' vaunted D took a turn for the worse right around the time word leaked that Monte Kiffin was leaving Tampa? Tampa continued it's horrific slide down the tubes with their third straight loss on Sunday -- allowing at least 38 points in two of the three.
3. How often have you watched the Colts play this year, and thought "they played well"? They're 11-4 after another sketchy performance in Jacksonville, where once again, Peyton Manning had to bail them out, and the Colts needed a crazy break (Maurice Jones-Drew knocking himself out and costing his team 10 precious seconds) to steal a win.
4. How pissed is Saints 28-year-old rookie P Glenn Pakulak? The Michigan native spent approximately $5,000 to buy up 80 tickets so his friends and family could come see him play in the NFL for the first time. Then the Saints didn't punt all game. Not once.
3 BURNING QUESTIONS -- STRICTLY FOR MY NINERS EDITION:
1. Anybody not at all shocked to hear the Niners lead the league in fumbles? So much for "Total Ball Security".
2. Are we sure Singletary was kidding about choking Shaun Hill? I know he said he was, but the guy's pretty emotional. Did you see him get all choked up after game talking to Chris Meyers?
3. How big was Nate Clements' slap to knock the ball away from Torry Holt on a 3rd and 6 with 2:41 left and the Niners trailing 16-10? If he doesn't react with lightning quickness to get his hand up, the Rams hold the ball for at least another couple of minutes, and the Niners lose.
INJURY OF THE WEEK: In the third corner of the Redskins/Eagles game, Washington ran an odd defense which required DT Lorenzo Alexander to cover Eagles RB Brian Westbrook -- a hideous mismatch. Philly ran Westbrook on a wheel route down the sidelines, QB Donovan McNabb threw a perfect pass, and hit him in stride. Alexander tried his hardest to stay with Westbrook -- so hard, in fact, he pulled up (very) lame with what appeared to be a pulled or torn hamstring. Even with Alexander hopping around in pain, FOX's Joe Buck couldn't help but make a small joke: "Alexander looked like he pulled everything on that play."