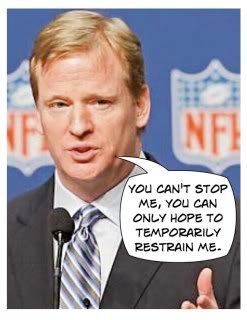 In the NFL justice system, there two separate, yet equally important groups -- the players who play in the games, and the NFL league office, which suspends players from playing in the games. These are their stories...
***THUMP, THUMP***
This week, the news in the NFL was all about suspensions, and indictments, and crime scene investigations, and temporary restraining orders. Here are the the guys who currently top Roger "The Hangin' Judge" Goodell's Most Wanted List:
Plaxico Burress
You probably know all about Burress's situation by now -- he's been suspended by the Giants (not the league) for the rest of the season, and most believe he'll never play another down for the team. If it were up to New York Mayor Michael Bloomberg, he'd also be sent to a maximum security pound-me-in-the-ass prison.
One interesting tidbit lost amid all the commentator hand-wringing over Burress carrying a loaded gun ("Why in the world would he need a gun at a club?!"), is the fact that just a few days earlier another Giant WR was held up at gunpoint. You'd think that might be part of Burress's defense argument, no? I mean, I'm not trying to defend him, but I know if my less-rich teammate was held up at gunpoint a few days before I went out to a club, I might feel uneasy without a way to defend myself.
Antonio Pierce
Pierce will reportedly play until his role in the Burress incident is fully known, although that role seems pretty clear already -- he called a team trainer to find out where to take Burress, took the gun from him, and may have taken it home to New Jersey (over the state line -- smart move, Antonio!).
Pierce's car has been impounded by the cops so they can go all CSI on it -- spraying florescent stuff all over, shining black lights on it, dusting for gun shot residue, etc. The findings will likely determine his fate.
The Williams Brothers
Yes, I know Minnesota's DT's Pat and Kevin Williams aren't brothers, but shouldn't they be? It would be easier than the way it is now, with seemingly every NFL commentator either calling them "The Willamses" or "The Williams Boys", or actually calling "The Williams Brothers" and then adding "They're not really brothers, but you know what I mean" or something like that. 
I mean, I know they don't actually share the same DNA or anything, but come on: They're both ~350 pounds, both play DT for the Vikings, both are renowned run-stuffers, both have been suspended at the same time for taking the same banned substance in the same over-the-counter supplement, and both filing jointly for an injunction to keep playing. If you're going to that similar, you might as be brothers. So, from now on, they are The Williams Bros. Discussion over.
Well, except for the part about them being suspended for the rest of the regular season. And then un-suspended. Will they be re-suspended? I have no idea. And honestly, their status could easily change between the time I write this and gametime Sunday, so I won't try to figure what will happen. I'll just say this: The TRO the Williams Bros. have gotten could allow them to play this week, and maybe thereafter, but if over-turned later, it could cost the Vikings their services for postseason games should they get there.
Okay, enough police blotter fodder, let's get to the games...
Houston Texans (5-7) at Green Bay Packers (5-7)
I'm sure a lot of Packers fans will blame the team's drop-off this season on the decision to replace Brett Favre with Aaron Rodgers. While there's really no way to know if Green Bay could've performed better with Favre at the helm, and it's impossible to directly compare them due to their apples-and-oranges situations -- different supporting cast, different environment, different expectations -- the stats simply do not bear that out. Here's a look at the basics of their respective stat lines:
RODGERS: 63.6%, 7.17 YPA, 20 TD/10 INT, 91.2 RATING
FAVRE: 68.7%, 6.94 YPA, 20 TD/14 INT, 90.4 RATING
Rodgers certainly isn't perfect, and he has screwed up at a couple of damaging moments (most notably, the 2nd half of the Saints game), but those stats say he's one of the better young QB's in the game. If he can manage to stay healthy, he should producing long after Favre has retired (and then come back again, and then re-retired, then come back, and then...)
The pick: PACKERS
Atlanta Falcons (8-4) at New Orleans Saints (6-6)
My love affair with the Falcons continues unabated. Why, just this morning I was writing "JOSH + FALCONS" inside a big heart on the cover of my binder in Social Studies. I'm hoping if I keep cheering for and picking the Falcons, Atlanta will see fit to give me a promise ring and invite me to prom.
The pick: FALCONS
Cincinnati Bengals (1-10-1) at Indianapolis Colts (8-4)
The Colts team motto this year could be "Cheap Wins R Us" if that didn't border on copyright infringement. The offense has taken a major step back as injuries have diminished the productivity of any number of Colts stars-- Peyton Manning, Joseph Addai, Reggie Wayne, Jeff Saturday.
Meanwhile, the defense has been without their top playmaker, Bob Sanders for eight of their 12 games thus far and is listed as questionable this week. Sanders is undoubtedly a great player, but how valuable is he really -- considering how often he's unable to play? "Injury-prone" doesn't really cut it -- he's never played more than six games in back-to-back seasons (Games played by year: 6, 14, 4, 15, 4*).
* This year -- 4 games left.
The pick: COLTS
Jacksonville Jaguars (4-8) at Chicago Bears (6-6)
Jags: Did you see the Fred Taylor quote on Monday night about how this year's Jaguars are the worst team he's ever played on due to their selfishness and lack of discipline? Man, talk about bad PR. I've always thought Jack Del Rio was a good coach, and would stay in Jacksonville a long time, but that kind of quote is a coach-killer.
Bears: With the Williams Bros. possibly suspended and Chicago just one game behind the Vikings for the division lead, the Bears still look to have a shot at the playoffs. But with a couple of dangerous offensive teams (New Orleans, Green Bay) on the horizon, they can't afford to lose this one.
The pick: BEARS
Cleveland Browns (4-8) at Tennessee Titans (11-1)
You know the Browns -- prolific offense, bad defense. Wait, that was last year, when they scored 402 points, and allowed 382. This year, their defense has been much improved, allowing only 247 points. Problem is, the offense has regressed even further, scoring only 213 points. This transformation has been more dramatic in the last two games, both at home -- the Browns D allowed only 26 points total to the Texans and Colts, yet lost both games as they only scored six points in each affair. With Ken Dorsey getting the start at QB this week for the injured Quinn and Anderson, we might as well start calling them "The Brwns" because they have no "O".
The pick: TITANS
Minnesota Vikings (7-5) at Detroit Lions (0-12)
For weeks, analysts all over have been predicting the Lions would win this game. Why? Because they refuse to believe the Lions will go 0-16, and looking at their schedule the rest of the way (Vikes, Colts, Saints, Packers) this one seems the most likely. 
Meanwhile, I have clung steadfastly to the concept of an 0-16 team, and believe the Lions are just the team to do it. That belief was shaken when the Williams Bros. were suspended. And while I feel a little better that the NFL has been temporarily restained, but if that's tossed out, the Vikes will lose the meat in their D-line sandwich. And anyone who's ever eaten a bread sandwich can tell you just how unsatisfying that is.
If the William Bros. are out, teams should find running room against the normally stout Vikings D. So, will that be enough to allow Detroit to get their first win this week. I say, "no".
The pick: VIKINGS
Washington Redskins (7-5) at Baltimore Ravens (8-4)
This looks like a good game on paper, but with Redskins offensive MVP Clinton Portis badly banged up, Washington's chances look about the same as Portis's chances of playing -- questionable. Even if he does play, Portis probably won't be at his best, and he'll have a hard time running against Baltimore's third-ranked rush defense.
The pick: RAVENS
Philadelphia Eagles (6-5-1) at New York Giants (11-1)
Philly needs this. The Giants do not. Normally, that would be enough to make me pick the Iggles, but I'm completely bowled over by this Giants team. Nothing seems to faze them, and I think they take it as a challenge every time a distraction like Burress threatens to derail their season.
The pick: GIANTS
New York Jets (8-4) at San Francisco 49ers (4-8)
The Jets are this year's Most Unpredictable Team. They started off the season looking impressive and everybody had them pegged as a playoff team with Favre as the centerpiece. Then they lost to the Raiders, and almost lost to the Chiefs, and people suddenly statred questioning both Favre's play and New York's playoff chances. Then they beat Tennessee two weeks back and suddenly they were a popular pick for the Super Bowl, and both Favre and DT Kris Jenkins were getting MVP touts. Now, after getting blown out at home against a very flawed Broncos team, they are again being questioned.
Could they lose to the Niners? Sure. Will they? Probably not. But the bottom line is this: I picked the Niners two weeks ago and they lost, then I picked against them last week and they won. So, if picking the Niners to lose makes them win, and vice-versa, then I'm willing to keep taking one for the team.
The pick: JETS
Miami Dolphins (7-5) at Buffalo Bills (6-6)
At 7-5 and with the Niners and Chiefs up next, the Dolphins could be headed to the playoffs, but nobody likes traveling to Buffalo in December. But wait, this game isn't in Buffalo, it's in Toronto -- part of the Bills plan to alienate their own fans by playing home games on foreign soil for the next few years.
So what does that do to Buffalo's home field advantage? Not much, says Vegas, who still has the Bills as a 1-point favorite, desite their recent losing skid and QB troubles. The 'Phins seem like the obvious pick at first blush, but this whole Toronto thing is a wild card which throw a wrinkle into matters. So to help me make up my mind, I consulted my Magic 8-ball. It said "Cannot predict now, ask again later", which I took to mean "Take the team with the better record".
The pick: DOLPHINS
Kansas City Chiefs (3-9) at Denver Broncos (7-5)
Who are the real Broncos? The team which beat the mighty Jets by 17 points on the road last week, or the team which got beat by the lowly Raiders by 21 points at home the week before? Are they the team which defeated the 9-3 Bucs back in Week 5, or the team which got crushed by the Pats by 34 points in Week 7? Are they team which has won three of their last four, the team which lost four of the previous five, or the team which went 3-0 to start the year? 
The answer, of course, is that they are all of the above. Which is why it's so hard to pick their games. Take this week, for example -- the 7-5 Broncos should be able to easily handle the 3-9 Chiefs, but they lost to K.C. by 14 in Week 4. Bottom line: I'm picking Denver, but I'm not proud of it.
The pick: BRONCOS
St Louis Rams (2-10) at Arizona Cardinals (7-5)
Have I mentioned recently that the Rams are bad?
The pick: CARDS
Dallas Cowboys (8-4) at Pittsburgh Steelers (9-3)
The rematch of Super Bowls X, XIII, and XXX. That's a whole lot of X's. Funny thing is, this could very easily be a preview of this year's Super Bowl as well. Pittsburgh sports the league's best defense, and Dallas just might have the league's most overall talent. 
So this will be a very interesting test for both teams. And not just because they have to face each other, either -- they also have to face the Heinz Field turf, which turns to the consistency of wet toilet paper this time of year. Last year, after the 3-0 quagmire debacle on a Monday night against the Dolphins, Steelers owner Dan Rooney announced the team would likely switch to artifical turf in the off-season. Then, caving to fan and media opposition to the idea, Rooney reversed himself.
Now, the field is again coming apart, and rumblings about their need to fix the problems are beginning anew. One of the most vocal critics, has been Michael Lombardi, who claims Pittsburgh is hamstringing its impressive team speed by playing in the muck:
"I think the speed of the Pittsburgh defense is amazing, and playing on Field Turf only enhances it.  Given how fast the Steelers played, Coach Mike Tomlin is probably telling Dan Rooney to consider putting it down in Heinz Field."
The pick: STEELERS
New England Patriots (7-5) at Seattle Seahawks (2-10)
New England got exposed last week against Pittsburgh. The Seahawks have spent the entire season getting exposed.
Yes, that's what passes for analysis around here. You got a problem with that?
The pick: PATS
Tampa Bay Buccaneers (9-3) at Carolina Panthers (9-3)
This is easily the game of the week, as the winner will take control of the all-powerful NFC South. The South, which has three teams currently in position to make the postseason, has quickly supplanted the NFC East as everyone's pick for the strongest division in the league.
Since I ranked the top AFC teams as I saw them last week, this seems like as good a spot as any to do the same for the NFC:
1. Giants -- Simply the best. In either conference.
2. Tampa Bay -- I have Tampa slightly ahead of Carolina due to their 27-3 win over the Panthers in Week 6, and their superior defense...
3. Carolina -- But they don't have an offensive threat like Steve Smith, and if the Panthers win this matchup they will immediately leap-frog the Bucs into the #2 spot.
4. Dallas -- Rising back up to the top now that they're healthy.
5. Atlanta -- The little team that could has big emerging stars at QB, RB, and WR, and 
6. Arizona -- No telling what their record would be in a real division, but I still rate them ahead of Washington and Philly.
So if I have Tampa ahead of Carolina, I must be picking them, right? Wrong. I'm going with Carolina due to my Stat O' The Week: NFC South teams sport a ferocious 22-2 record at home this year.
The pick: PANTHERS
LAST WEEK: 9-7
THIS WEEK: 1-0