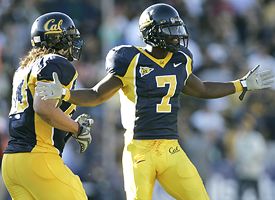 I really think there hasn't been enough conflict over when and if the 49ers should draft a wide receiver in the 2008 draft....Now that there has been sufficient chuckling, I thought after the DeSean Jackson scouting report, it was only fitting to put one together about his running mate Lavelle Hawkins. While DeSean Jackson was the sizzle for the Cal teams, Lavelle Hawkins was the steak, taking care of business without quite the same level of flash. Jackson clearly is a stud as a return man, but as a receiver, Hawkins caught 72 passes for 872 yards and 6 TDs to Jackson's 65, 762 and 6, although Hawkins did play in one more game.
Anyways, I was checking out the scouts' take and noticed an interesting comment:
"Following a strong senior season and an impressive showing at the Senior Bowl, Hawkins has established himself as one of the top-10 receivers in the 2008 class, which likely will land him a spot in Round 2."
I've watched plenty of Cal football the last few years and I always felt Hawkins was underappreciated. While he isn't quite a home run threat, he seems to bring a quiet consistency that any team would appreciate. In 2007, aside from a 64 yard reception against Oregon state, Hawkins never had a long of more than 28 yards. As enjoyable as it is to see someone run down a back-breaking catch and run, I think most of us can appreciate a consistent pass catcher all day long. On to more of the report:
Strengths:
A quick, fluid and polished receiver. Runs smooth and crisp routes. Effectively uses double moves and subtle head bobs to separate . . . He stands out on film because of his outstanding initial burst. Uses quick feet to beat the jam at the line and has enough speed to occasionally get over the top of defenders. Gets upfield in a hurry after the catch. Is not afraid to go over the middle and will make the tough catch in traffic.
Weaknesses: Lacks ideal size and strength. Is not physical enough. Will get pushed around by some bigger DB's in coverage. Goes down too easily after the catch. Speed is good but not elite. Will not be much of a vertical threat in the NFL. Needs to be more effective as a blocker.
Overall: Hawkins is a bit undersized and he's not very physical. However, he is one of the most underrated receivers in the 2008 class because he's quick, consistent and does almost all the little things correctly. Hawkins is an outstanding route runner that knows how to separate and will catch anything in his neighborhood.
Everything they say makes sense looking back at his career at Cal. So the question becomes how high do you draft him? If he truly is moving into the 2nd round of the draft, there are a few options:
Roll the dice with that high second round pick.

Gamble on him falling to us in the third round.

Trade up into the end of the second round (or down from the high second round pick) and snag him then.

Just don't take him b/c he's not worth it.
So what would Niners Nation do? I've included a poll within this post that you should see when you go into the comments. There has been some discussion of Hawkins but I'd love to hear everybody's thoughts. While he might not be a #1, I still think he would be a great addition to the team. While it's based a lot on potential, a long term trio (after DJack and Bruce are done) of Battle, Hawkins and Hill to go along with Vernon Davis is not the worst thing in the world....
potentially
. A little crazy-sounding, but certainly intriguing if you are willing to consider the potential.