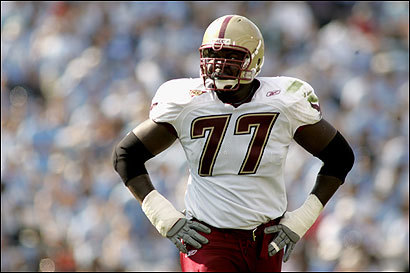 With the 29th pick of the draft, the San Francisco 49ers select Gosder Cherilus, Offensive Tackle, Boston College.
This is an interesting position for the 49ers.  They could go in several directions depending on who is sitting here, assuming they don't trade up or down (up I doubt, but down would seem to be a decent possibility with some of the depth this year).  Quentin Groves is a very distinct possibility and I would certainly have no problem with that kind of selection.  When you go 5-11, there are plenty of holes to fill.  However, most of us would agree that the offensive line was often the most glaring need.  With the loss of Justin Smiley and the likely retirement of Larry Allen, the supposed depth from last season is all milked up.
Cherilus played last season at left tackle, but appears to be a more natural fit at right tackle.  The offseason discussion has centered on moving Joe Staley to the blind side and this would allow for that.  At 6'6, 315 lbs, Cherilus is a mountain of a man who can be worked into the starting lineup quickly.  Considering the injury issues with parts of our line and the general crappiness of said line, Cherilus could be an impact player for us from the get-go.  Scouts Inc had the following to say:
Strengths:
Won't take many false steps, is efficient and generally gets into sound position. Drives legs once in position, shows above-average lower body strength and is a powerful run blocker that can get movement in short-yardage situations. Plays with good motor, stays under control when gets into space and is an effective downfield blocker. Efficiently gets into pass set and uses long arms to ride pass rushers past the pocket.
Weaknesses: Plays entirely too high. Has quick feet for his size and good overall strength but both can be compromised by his marginal leverage . . . While big enough to hold ground most of the time, he bends at the waist rather than the knees and powerful bull rushers should have some success pushing back into the pocket.
Overall: Gosder needs to work on staying lower to the ground and he appears to be a better fit at right tackle than left tackle. Regardless, Cherilus is a four-year starter who possesses a very good overall talent, including a massive frame, quick feet for his size and a mean streak to finish off blocks. He projects as a late-first or early second-round pick in the 2008 NFL Draft.
I had considered Sam Baker out of USC at this spot but concerns seem to be rising and he has slipped well into the second round.  If that's the case, one option (if the 49ers really want him) is to trade down into the second round and get Baker and a receiver with the normal second round, all while picking up more picks.  Just one of many options here.