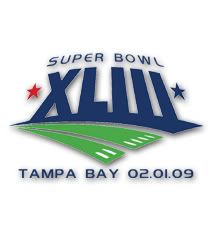 Welcome to 'Any Given Friday', where we can't remember a Super Bowl matchup this unsexy which had so much potential to be a great game since Rams/Titans or at least Rams/Pats, where we're still waiting to hear the last name of the Niners' new offensive coordinator (Jimmy Raye What?), and where we're unhappy to say that due to real life commitments which take precedence over football (it's true, they exist), this will be my last column for while.
You know how when something is really big, they'll say it's the "Super Bowl of ________"? Like "The Super Bowl of competitive eating", or "The Super Bowl of dog fighting", or "The Super Bowl of Poker". Okay, maybe that last one doesn't really work -- and that's only because the NFL will sue the pants off anyone who officially uses the term. But you know what I mean. It's not just how we hype something up. We use the words "Super Bowl" to pump needed life into small-time matchups, like our fantasy league championship games: "It's the Super Bowl of The Labia League, as the Pounding Fathers take on Porn on the Cob."
It's not just hype, it's the very pinnacle of hype. The Super Bowl of hype, if I may be so bold. I say "Super Bowl", you don't just think football, you think expensive commercials, fighter plane flyovers, shots from the blimp, long halftimes, Media Day, and two weeks of hype, hype, hype. I don't know how it is for you, but the Super Bowl is the one game I've never had to sell to a wife/girlfriend. There's always a fun party to go to, or even just some friends getting together, and they bring their significant others as well. If the girls aren't interested -- and surprisingly often they are -- then they can talk to each other and/or make us more food. Right there, my friends -- that's the power of hype.
That being said, this year's game is a little hard to get hyped up about. Sure, you've got the whole Whisenhunt-against-the-team-that-passed-him-over thing, the will-Hines Ward-play-or-not thing, and even the What-the-hell-was-Anquan Boldin-thinking-on-the-sidelines thing (more on that in a moment), but that doesn't exactly get the blood boiling for Sunday. We do have a serious darkhorse against a team going for a record sixth Super Bowl, and that's not all bad. And, as i stated in the opening, I also have a feeling this could be a sleeper matchup -- one which doesn't seem like a classic, but could be surprisingly entertaining.
BOLDIN BEAUTIFUL: I know the Anquan Boldin sideline situation has been talked to death, but I never got my two cents in, so before I get to the actual game, I wanted to rant a moment. Here goes: Things which happen on the sideline during a football game are supposed to be chalked up to extreme competitors expressing their will to win in a tremendously competitive environment. Even if a player is acting in what would usually be thought of a selfish manner, players and coaches alike write it off to "the heat of the battle". And I usually agree with that sentiment wholeheartedly. But there have to be limits. And when your team is in a position to clinch a trip to the Super Bowl, you need to set your ego aside.
What bothered me most about Boldin's actions during last week's game against the Eagles wasn't that he was arguing about playing time during the (very successful) drive which clinched the NFC Championship. It was the fact he tried to defend (or at least explain) the move afterwards by saying he was never told why he wasn't in the game.
What does it matter why? That's not for him to question. Especially when the team is running well in a formation which only features one WR. Boldin may be a great WR -- he's actually been one of my personal favorites in terms of style and toughness -- but he's not Larry Fitzgerald. Not before the playoffs, and certainly not after Fitz's postseason performance, or Boldin's injury. If there's one WR in, Boldin should expect it to be Fitgerald. And if the formation is working, you shouldn't complain. Being competitive is great, even if it makes you hard to deal with sometimes, but being competitive means wanting to win, not wanting to play a key role in a win.
Boldin leaving the game immediately is a little troubling as well. As a competitor, you'd imagine he'd want to savor the most important win in your career. You'd think his antipathy towards the Cardinal organization wouldn't keep him from wanting to celebrate with his teammates. But that's his decision, and while it's distasteful, but not bad enough to be deemed unprofessional.
All that being said, if Boldin's a great player, and will give his all in the Super Bowl. If his problems with Arizona management force a trade, I don't see too many WR-needy teams who would balk at acquiring him over something like this. But he could still use a productive game vs. Pittsburgh to wipe the bad taste of this incident from people's mouths.
After the jump, I'll get to the game.
Arizona (12-7) vs. Pittsburgh (14-4)
WILD CARDS: While the Steelers are this year's rock -- the known quantity, the consistent team, the control group -- Arizona is this year wild cards (pun intended). They weren't expected to do much in the postseason, and some thought it was a disgrace they even got there. But here we are three games later, trying to figure how they got here, and if they really have a chance to topple Pittsburgh.
The outstanding performances of Kurt Warner and Larry Fitzgerald have grabbed the headlines in Arizona's Cinderella run to the Super Bowl, but a resurgent defense has also played a big role in the Cards becoming the first seven-loss team to make it this far. The Cards D was only 19th in the league in yards allowed during the regular season, and is officially the worst D ever to reach the Super Bowl in terms of points allowed (they allowed 66 more than the previous worst, the '06 Colts). But the squad, led by respected coordinator Clancy Pendergast, did show a knack for the big play -- they led the league with 16 fumble recoveries. In the postseason, they've ramped that up a bit, forcing 12 turnovers in their three playoff games. This has come from improved play from vets like DE Antonio Smith, who had a sack for a safety and another forcing a fumble which led to a TD, and maturing young players such as rookie CB Dominique Rodgers-Cromartie, who has six INT's since Nov. 16.
STEEL CRAZY AFTER ALL THESE YEARS: The Steelers success is not nearly as mysterious as the Cards, as many of us had them getting this far. They have a dominating D (#1 in the NFL in total defense, pass defense, and scoring defense) led by the defensive player of the year (arguably not even the squad's best player), a QB who's already won a Super Bowl, and a rich tradition of winning. In fact, one could make the argument that Pittsburgh is the best team in the Super Bowl era. This will be their seventh appearance in the game in 43 years (second only to Dallas' eight), and they have a stellar 5-1 record.
But it's a little misleading to concentrate on the Steelers history -- this game will be played in Tampa, not the history books. And although Pittsburgh won the Super Bowl just three years ago, they had a different coach, and Ben Roethlisberger didn't play particularly well. In fact, his numbers were downright shitty (9/21, 123 yards, 0 TD/2 INT). His team won more because their defense, some bad officiating, and TD pass to Ward from WR Antwaan Randle El.
So the Steelers do have some question marks. Can Mike Tomlin win the big one on his first shot? Can Roethlisberger bounce back to have a good Super Bowl in his second try? Can they win without their most dependable receiver? The answers to all those questions is probably "yes", but there's just enough uncertainly within this known commodity to make this an interesting game.
REST VS. RUST: One thing to keep in mind: The two weeks break since the championship games was probably welcomed more by the Steelers, who played an exceptionally hard-hitting game against Baltimore, than Arizona, who's on a hot streak, playing their best ball of the year.
X'S & OH'S: Former Steelers (and Niners, among others) CB Rod Woodson made news this week by saying the Cards are "toughest draw" for Pittsburgh. Woodson, a member of the NFL's 75th anniversary team, obviously knows a thing or two about defense, and feels the Cards match up well against that Steeler D:
"The way you beat a 3-4 team is you spread them out and you hit them in the seams. That's exactly how Arizona plays, and that's how they played them last year without Anquan Boldin."
THE VERDICT: Everybody's talking about the matchup between the Cards offense vs. the Steelers D, which would normally make me want to look at the other side of the ball. But that kinda boring. Sure, the Cards D is playing better, and the Steelers offense can be exciting -- Roethlisberger's ability to escape the rush often sets up big plays to WR's Ward, Santonio Holmes, and Nate Washington -- but I don't see it being a decisive matchup. I can't see the Steelers lighting up the scoreboard at will, nor do I see the Cards completely shutting them down. But I could see either happening on the other side of the ball. I don't think Arizona will torch the Pittsburgh secondary, but they could. Of course, the the Steelers could also harass Warner into lots of sacks, picks and/or fumbles, and shut the Cards down. That's a little more likely, though I'm not predicting that, either. In the end, I think Arizona will have some success through the air, and make a game of it, but the Steelers pass rush eventually gets to him, and rattles him down the stretch. Meanwhile, Big Ben and the Steeler O isn't spectacular, but scores enough points to win.
The pick: STEELERS 24, CARDS 20
FINAL NOTE: As I alluded to in the opening, my time has become a much scarcer commodity of late, and in the spirit of the poor economy, I need to lay off a couple of my hobbies. Unfortunately, one of those includes these columns, and the end of the season seems like a good time to do it. Please don't cry, you're just making it more awkward for us both. It's not you, it's me. I swear. Anyway, I hope to again find a balance in my schedule which allows me to contribute to this great site on a more regular basis. Until then, I'll be seeing you in the comment sections. I'll be the one lobbying for the Niners to take Gartrell Johnson in the middle rounds if he's still available.