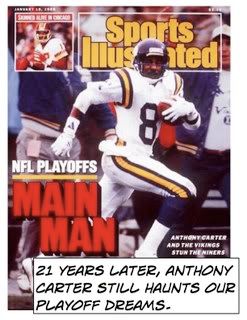 Welcome to 'Any Given Friday', where the divisional round of the playoffs is traditionally our favorite week of the season, where we can't understand how a guy who just got fired from the Jets has a new job already while a guy who just interviewed for the Jets opening has been fired already, and where we were tempted to take each of the four road dogs this weekend (yes, even Arizona).
There's nothing worse than earning the bye, waiting for a week, and then getting kicked in the teeth at home by some wild card team on a roll. Actually, getting kicked in the teeth is a more pleasant experience than watching the Vikings beat the 13-2 #1 seed Niners in this debacle at The Stick in January of '88. The 49ers seemed flawless during the regular season, but had two rookie CB's (Don Griffin and Tim McKyer) seeing significant time. Anthony Carter exploited that to have one of the all-time great post-season performances -- 10 catches, 227 yards, and two circus catches which would make Jerry Rice blush (while Rice was held to three catches for 28 yards). That was bad enough, but seeing Joe Montana throw a pick-6 and then get benched for Steve Young (in his first year with the team) was like a knife to the gut.
I was so bummed out after that game, I laid on my bed in the dark for hours. I wouldn't even take calls from my friends. That's all I could really do -- I was a kid, and liquor had yet to enter my life. Unfortunately, when the defending world champion Niners lost at home after a bye to the Packers in this disaster in January of '96, liquor was a key component in me splintering my coffee table with an aluminum bat. I was enraged when the Niners first play from scrimmage went to FB Adam Walker, who had a cast on one hand and had struggled to hold on to anything late in the year. Walker fumbled, and it was returned for a TD by CB Craig Newsome. I only got angrier (and drunker) as both Green Bay's TE's Mark Chmura and Keith Jackson caught TD's on obvious pick plays that had Niners SS Tim McDonald in the ref's faces). That year, McDonald had increasingly been a target for passers, as he'd lost a step off of what was never great speed -- Favre and his receivers exploited that.
The point is, this is the weekend where those small flaws get exploited, where a sluggish start can spell a quick finish for even the greatest of seasons. That's what all the fans of this weekend's home teams are worrying about right now. Will they be rusty? What if they come out flat, and the road dog takes the lead early? How will they respond to adversity?
Sometimes the matchups just don't go your way. Other times it might be a key injury. And sometimes someone just goes Anthony Carter all over your ass. Either way, both top seeds don't usually end up the conference title games. The question is, who will be the top seed staying home? Here are my rankings -- from most likely to win to most likely to be upset:
Carolina -- Arizona played them very tough in Week 8, the focus and film study will be better, Arizona hasn't beaten a non-NFC West team on the road this year, Boldin's injury is a major question mark for the Cards. You get the idea.
New York -- They may be playing a division rival for the third time -- always tough, as they know from last year's divisional round upset at Dallas -- and they may have lost to them only five weeks ago at home, but I think they are probably still the best overall team in football.
Pittsburgh -- The Chargers have already played the Steelers tough in Pittsburgh once this season, losing that infamous 11-10 game. And despite their injuries, San Diego has been great in the playoffs under Turner, even playing well on the road -- including a win in this round last year at Indy, also without LT.
Tennessee -- This isn't a slam on the team, but they have several the things you look for in a potential upset victim -- 1) non-dominant offense (if they fall behind, they'll be in trouble), 2) questionable QB (think of Collins trying to throw to win late against Ed Reed), 3) a previous game against the same opponent where they almost lost -- and won due to a bad call.
Arizona (10-7) at Carolina (12-4)
BACK FROM THE EDGE: In one mildly successful week, RB Edgerrin James went from the back of the milk carton to the front of the sports section. Seriously, I've never seen so many people so excited about a guy getting 73 yards on 16 carries with no TD's. But such is the state of James' career, and the Cards' running game. But when the chips were down and Arizona badly needed a couple of 1st downs to "run" out the clock, they showed they know which side their bread is buttered on, throwing on most downs.
Up 30-24, with just 2:17 left, the Cards needed to convert a 3rd and 16 to ice the game, and QB Kurt Warner threw to little-used backup TE Stephen Spach for 23 yards. Passing to Spach, who only had two catches all year and nine in his three-year career, with the game on the line? Now, that's illogical (Get it? 'Cuz Spach is pronounced "Spock". The Vulcan in 'Star Trek', who always thought logically... Nevermind.)
YOU'RE THE BEST... AROUND: One of my pet peeves are receivers who don't catch the ball at its highest point, waiting for it to get to their chest, and thereby allowing a defender to knock it -- or them -- away. Last week against the Falcons, WR Larry Fitzgerald showed why he's the best receiver in the game at catching a jump ball.
Less than five minutes in, the Cards called a flea-flicker and Warner perfectly lofted a deep ball to give him a good shot (another pet peeve: QB's who don't put enough air under deep balls. see: Smith, Alex). Fitzgerald timed his leap perfectly, and went up in traffic to make the grab -- just as he always seems to. For the Cards to have any chance Saturday, he and Warner will probably have to hook up on at least one big play like that.
INJURY UPDATE: Cards WR Anquan Boldin pulled a hammy in last week's win over Atlanta and didn't practice all week. He'll try to test the injury on Saturday, but whether or not he plays, I'm highly doubtful he'll be anywhere near 100%.
ANCIENT HISTORY: In Week 8, the Cards jumped out to a 10-0 in Carolina, and led 17-3 more than halfway through the 3rd quarter. After the Panthers stormed back to tie the game at 17-17, Arizona again took the lead, 23-17 (after missing the PAT). The Cards held that lead for 56 seconds before Steve Smith hauled in a 65-yard TD from Jake Delhomme, and Carolina never looked back, winning 27-23.
BY THE NUMBERS: In that Week 8 tilt, Warner had himself quite a day against the Panther secondary 35/49, 381 yards and 2 TD's. He did throw a pick, to LB Jon Beason.
THE VERDICT: I think this game is going to be better than most people think. Carolina isn't exactly Chicago when it comes to weather, and the temperature is forecast in the mid-50's on Sunday, so the Cards might not suffer much from the elements. But as I mentioned up top, the playoffs are different than the regular season, both in terms of preparation and intensity. Even if the Cards are able to get it going through the air without a healthy Boldin, I believe at some point in the second half, the Panthers RB duo of DeAngelo Williams and Jonathan Stewart will take over, and the defense will make (at least) one big play.
The pick: PANTHERS 27, CARDINALS 17
San Diego (9-8) at Pittsburgh (12-4)
RIGHT PLACE, RIGHT TIME: Chargers LB Tim Dobbins didn't have a sack in the regular season. He didn't have one last year, either. As a matter of fact, he's never had one in his three year career. Until Saturday, that is. After failing to sack Manning for 58 minutes, and needing a stop to have any chance to win the game, defensive coordinator Ron Rivera sent Dobbins on a well-disguised blitz. Dobbins sacked Manning at his 1-yard line, forcing the Colts to punt out of the back of their end zone. Needing to concentrate on just getting the punt off, the Colts allowed a 26 yard return, and San Diego started their game-tying drive on Indy's 38 needing just a FG.
San Diego's defense has been better of late -- many point to Rivera as the reason --and looked good against Indy. They'll need to keep that up -- and the score down -- if they expect to beat the Steelers in Pittsburgh.
BY THE NUMBERS: This stat is so amazing, so surprising, so counter-intuitive, it has to be our Stat O' The Week: As head coach in San Diego, Norv Turner is 12-1 in December and January.
INJURY REPORT: Whenever you have a torn groin, that's not good. If your job is to run real fast and get pummeled by large men, that's really not good. I think it's safe to say Tomlinson won't play a big role in this game.
ANCIENT HISTORY: In January 1995, these teams hooked up in Pittsburgh for the AFC Championship -- and, as it turned out, the right to get their asses kicked by the Niners in the Super Bowl. The Chargers won 17-13 after the Steelers' last gasp -- a pass from QB Neil O'Donnell to RB Barry Foster -- fell incomplete at the goal line.
(NOT SO) ANCIENT HISTORY: The above mentioned 11-10 game in Week 11, was of course, the only in league history. San Diego led 7-5 at halftime, and 10-8 until the final seconds. Looking at the numbers, it's hard to figure out why -- Philip Rivers had just 164 yards passing, no TD's, and two INT's, and LT had only 57 yards on the ground, while Ben Roethlisberger had 308 yards passing, and Willie Parker had 115 rushing.
THE VERDICT: I really want to take the Chargers here. I think they'll play them tough, and if Tomlinson was healthy, I'd probably go that way. But with his injury, and Sproles performance last week it's an exceptionally tough game to pick. But I don't think Sproles can do that against the Steelers D (only one 300+ yard game allowed all season), especially on that field -- double-especially since they have rain and snow forecast from now until gameday. It's supposed to clear Sunday, but with a high of 26 and in the winds of Hines field, I'll take Big Ben and Hines Ward over Rivers and DUI Boy.
The pick: STEELERS 20, CHARGERS 16
Baltimore (12-5) at Tennessee (13-3)
REST OR RUST: It's the age-old question: What does three weeks rest do for a team? Will head coach Jeff Fisher's decision to rest his starters in Indy during a season-ending blowout loss be hailed as a gutsy maverick move as the Titans come out fresh and strong, or will it be criticized as a dumb move after Tennessee comes out flat and mistake-prone? Those are your only options, really.
JOE VS. THE HISTORY BOOKS: Last week, Ravens Joe Flacco became the first rookie QB to win on the road in the playoffs since the merger (After Matt Ryan had run their record to 0-4 the day before). Flacco and Roethlisberger are the only QB's starting their first playoff games to win in the last 13 tries (Ryan and Tarvaris Jackson both fell victim to that). It's not like Flacco played all that well -- 9/13, 135 yards -- but he avoided turnovers and let his defense and running game win it for him.
BY THE NUMBERS: I touched on this point last week, but it bears repeating -- Good news: All five of Baltimore's losses are to playoff teams. Bad news: They are 0-3 vs. Pittsburgh and Tennessee -- the teams likely standing between them and the Super Bowl (though none by more than four points).
BY THE NUMBERS 2: I mentioned on Monday that Ravens S Ed Reed has two INT's in an amazing three straight games, but after further review, it's even more amazing -- he's also done it in five of the last seven games.
BY THE (MADE UP) NUMBERS: I don't know if Vegas runs odds on how many turnovers Reed will have, or where to find them if they do, but the Any Given Friday Sportsbook puts it at .9. Even against the conservative Titans, I'm taking the over.
ANCIENT HISTORY: The Ravens visited the Titans under similar circumstances eight years ago this week, also in the divisional round of the playoffs. The Titans were division winners at 13-3, as they are this year. The Ravens were tough luck losers both year -- then to the Titans in the old AFC Central at 12-4, this year to the Steelers in AFC North at 11-5. The Ravens beat the Titans to advance to the AFC Title game.
(NOT SO) ANCIENT HISTORY: In Week 5, these teams went at it in a typically tough, defensive struggle, featuring several shoving matches. Flacco threw two picks, and the Titans won, 13-10, but only after scoring the last 10 points, including a late TD following a very iffy rough the passer call on Terrell Suggs.
THE VERDICT: I keep wanting to rate the Ravens higher than I do, but I hold off because of Joe Flacco. It hasn't hurt them yet, but I think this might be the week. He didn't beat them last week, but he didn't provide much help, either. On the other side, injuries to DT Albert Haynesworth and C Kevin Mawae could weaken both of Tennessee's lines -- against Baltimore, that could be very bad. So this game is very even, as the teams were during the season (both teams had identical +141 point differentials). Their regular season was even, and this one is probably a coin flip. Since I don't have a coin on me, I'll just take the team without the injury questions.
The pick: RAVENS 2, TITANS 0
Philadelphia (10-6-1) at NY Giants (12-4)
MISUNDERSTOOD EAGLES: Philly's record and their inconsistent offensive efforts have painted them as mediocre team (see: them finishing a distant third in Monday's poll). But their overall scoring numbers for the year paint a different picture. They not only out-scored their opponents by 127 points for the season, but managed to out-score them in each of the four quarters. Sure, they've hit their rough patches, scoring three points at Washington, seven at Baltimore, and 13 at Cincinnati, but two of those teams have very good defenses, and Philly's D stepped up to keep two of those games close. Only the Baltimore game was a blowout loss.
The point is, looking at the Eagles as a whole -- as one should for statistical purposes -- they were among the best teams in the league. The Giants were only six points ahead of them in point differential (+133), while Pittsburgh (+124) was just behind, and Carolina (+85) was well behind.
BY THE NUMBERS: The Eagles are 1-5-1 in contests decided by a TD or less.
BY THE NUMBERS 2: Since Donovan McNabb's benching, he has thrown 10 TD's and only two INT's. Meanwhile, the team has gone 5-1.
BY THE NUMBERS 3: CB Asante Samuel's fourth career playoff pick-6 last week didn't just give him the NFL postseason record, but also as many playoff TD's as he has non-playoff TD's.
ANCIENT HISTORY: The Eagles and Giants split two close games this year -- each road team winning -- Philly out-scoring New York by one, 51-50. Not only did the Eagles come within a 4th and 1 conversion from a shot at sweeping the Giants, but they're also the only team to beat the Giants at home this season.
BURNING QUESTION: Will Andy Reid's notorious game management problems, on display again last week at Minnesota, be the Achilles heel which does Philly in?
THE VERDICT: First, let's get a couple of things straight -- 1) During the regular season, the Giants were the best team in football, 2) After their impressive run through the playoffs and Super Bowl last year, they have to be this year's favorite. That being said, I think this is a matchup they didn't want. In fact, I think it's almost a little unfair -- if the Giants are the top seed, shouldn't they play the worst other team still alive in their conference? The Cards have the worst record, play much worse on the road, and isn't as hot right now. (Maybe it would be more fair to allow top seeds to have their choice of opponent?) As it is, the Eagles are healthy, hot, and confident coming into New York, and I think this comes down to a late FG. So will they pull the upset? I say no -- because Reid uses all his challenges and/or timeouts and a blatantly missed call just before the two minute warning stands, killing their last gasp drive.
The pick: GIANTS 23, EAGLES 20
LAST WEEK: 3-1